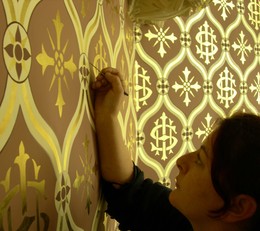 Location
Westmeath, Ireland
About Patsy Preston
Born in Belfast, Patsy is now based in Westmeath, in the heart of Ireland. An early career in hand painted and digital sign-writing honed her eye for detail and a commitment to developing practice led to degree in Art & Design from GMIT. Combining her formal training along with years of experimenting with a wide range of materials and media, she applies artistic discipline in a myriad of ways.
Patsy is very creatively active and believes strongly in the potential of art to assist others to become more empowered and motivated.
She uses organic materials, cement render, re-cycled items, mosaic and traditional paint finishes. Often referencing the visual language of the earth and mythology to explore the realms of imagination and intuition. she has a huge body of work, including community art projects, private commissions, festival installations, commercial decor and gallery shows.
if you have an artistic idea or project you would like to see undertaken or developed, Patsy will work with you or your group to bring your vision into the light.